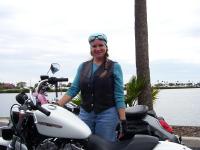 Before I joined the ranks women motorcycle riders I found myself getting this unexplainable excitement when ever a motorcycle went rumbling by me.

It was just about five years ago or so when I noticed that when a motorcycle would go by I would have the desire to jump on the back and go for it. I think that was the start of me becoming a biker woman.

My husband at the time didn't ride a bike and even though I hadn't been around a motorcycle in years the feeling kept growing and my curiosity grew more.

Well needless to say that marriage didn't last and soon after the marriage ended. Soon after, I met my future husband and we instantly clicked.

He was this rough looking big teddy bear biker that rode a motorcycle although; he didn't have one at the time. But it didn't take very long, in no time we had our first motorcycle together.